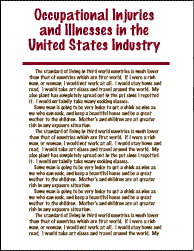 This module is based on 29 CFR 1910 Subpart S and covers electrical work requirements designed to minimize potential accidents. The Occupational Safety and Health Administration's (OSHA) standards were developed to cover electrical system parts an employee would normally use or contact. In general, all equipment should be de-energized before an employee works on it. Otherwise, protective equipment and insulated tools are required.

This module covers the following sections:
Hazardous (Classified) Locations
Electrical Safety Work Practices
Work Practice Selection and Use
Equipment Use
Personal Protection Safeguards.
For more information about Electromagnetic Safety, see "Basic Electrical Safety". Click on the "Electrical" selection on the Main Menu to access this document.