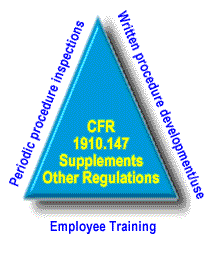 In the early 1970's, OSHA adopted various lockout-related provisions of the existing national consensus standards and Federal standards that were developed for specific types of equipment or industries. When existing standards require lockout, 29 CFR 1910.147 supplements them by requiring:
Written procedure development and utilization
Employees training
Periodic procedure inspections.
Click on the term below to see which regulations are supplemented by 29 CFR 1910.147.
Affected Regulations