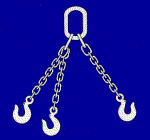 Cranes, derricks, and hoists all use slings to hold their suspended loads. In fact, slings are the most commonly used piece of materials-handling apparatus. This Sling Safety module describes the proper selection, maintenance, and use of slings.

This module covers the following sections:
Use of Slings
Types of Slings.
The first section describes general regulations regarding all slings. The second section describes the characteristics and regulations for specific types of slings.