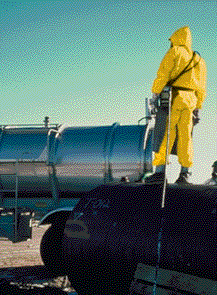 The HAZWOPER standard protects employees involved in:
Hazardous substances at uncontrolled hazardous waste sites as required by a governmental body (federal, state, local, or other)
Corrective actions at sites covered by the Resource Conservation and Recovery Act (RCRA)
Voluntary clean-up at sites recognized by federal, state, local, or other governmental bodies as uncontrolled hazardous waste sites.
Treatment, storage, and disposal of hazardous wastes from operations at RCRA licensed treatment, storage, and disposal facilities
Emergency response operations for substantial threats of release or the release of hazardous substances. This is the type of operation with which the majority of employers will be concerned.
Exceptions to the above are permitted if the employer can demonstrate that the operation does not involve employee exposure or a reasonable possibility of such exposure to hazards.