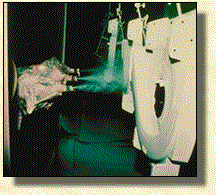 This module applies to flammable and combustible finishing materials when applied as a spray by:

Spray Finishing also covers the application of combustible powders by powder spray guns, electrostatic powder spray guns, fluidized beds, and electrostatic fluidized beds.

This module does not apply to outdoor spray application of buildings, tanks, or other similar structures, nor to small portable spraying apparatus not used repeatedly in the same location. In these situations, there would be lesser chance of combustible residue buildup and greater chance of atmospheric dilution of flammable vapors.