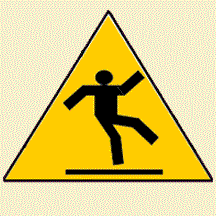 Slips, trips, and falls constitute the majority of general industry accidents. They cause 15% of all accidental deaths, and are second only to motor vehicles as a cause of fatalities.

The OSHA standard for walking and working surfaces applies to all permanent places of employment, except where domestic, mining, or agricultural work is performed.

This module covers the following sections:
General Requirements
Guarding Floor and Wall Openings and Holes
Safety Requirements for Scaffolding
Manually Propelled Mobile Ladders, Stands, and Scaffolds (Towers)
Other Working Surfaces.