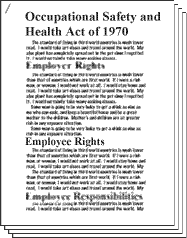 Employees have a right to seek safety and a healthy environment on the job without fear of punishment. That right is spelled out in Section 11(c) of the OSH Act.

The law says employers shall not punish or discriminate against workers for exercising rights such as:
Complaining to an employer, union, OSHA, or any other government agency about job safety and health hazards
Filing safety or health grievances
Participating on a workplace safety and health committee or in union activities concerning job safety and health
Participating in OSHA inspections, conferences, hearings, or other OSHA-related activities.
An employee exercising his or her OSHA rights, can not be discriminated against by the employer in any way, such as through firing, demotion, taking away seniority or other earned benefits, transferring the worker to an undesirable job or shift, or threatening or harassing the worker.